Mediation is a means of problem-solving and resolving issues that arise during divorce, separation or in other family matters. It is generally far more cost effective than legal processes and most importantly, it helps clients make their own decisions which often generate a much better outcome for them and their families.
Mediation is voluntary – because you choose to come into mediation, the decisions you take are far more likely to be lasting compared to a decision that might be imposed upon you by the court. It is a confidential process, which allows for discussions to take place and options to be explored without any threat of the material being used elsewhere. As your mediator, I do my best to remain impartial; I am on both your sides. I will not make judgements or give advice but I can guide you and help you think about what the future might look for you and your family as well as provide legal and financial information. Generally speaking, I will encourage you to seek legal advice from your solicitor and you may wish to ask them to complete the legal formalities at the successful conclusion of the mediation.
As a member of Resolution, I can work with you either as a sole mediator or with a co-mediator (who might come from a legal, financial or therapeutic background). This means that we can offer you the right amount of support in the right area, depending on what you think you might need. Every case is unique and it is important to offer you a way of working that best meets your individual needs. Mediators come from a variety of backgrounds; my background is therapeutic but mediation certainly isn't therapy or about reconciliation. It is very important for me to find creative ways of managing conflict and to help my clients feel heard and acknowledged. Don't worry about the finances, I have a lot of experience helping clients to work on these issues too but I work closely with independent financial advisors and lawyers to make sure that you receive the right level of legal and financial advice particularly in more complex cases where there might be business or pension issues to be worked through.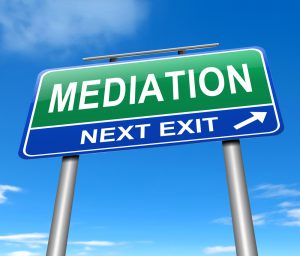 How does it work?
Before you start mediation, it is important for both parties to have a pre-mediation meeting. This takes place on an individual basis, which gives you the opportunity to talk to me about your hopes and concerns about mediation. You will also be given information about other options for sorting things out. It is also very important for me to assess if mediation is suitable for you. Mediation works for most people, even in situations of high conflict but sometimes, it is inappropriate. It is essential that you feel safe and able to discuss difficult and sensitive issues openly. The most important factor is that both participants come to mediation wanting to achieve resolution no matter how difficult their situation might be. Once mediation gets under way, it is up to us together to set your agenda. We will also sign an Agreement to Mediate, which ensures that everyone is committed to the process.
Mediation can help with many different issues including:
Arrangements for children – where will they live, how often and when will they see each parent
Financial and property issues – how will you manage these moving forward; selling/buying houses, how will you divide your savings, how might you manage debt, how will the family be supported, how will you manage your pension provision
Divorce and separation – helping you decide how you want to manage the legal process
Pre-nuptial, post-nuptial, civil partnership and co-habitation issues
Re-negotiating existing arrangements as families change e.g. relocation or introduction of new partners
Helping families post separation where agreements have broken down
We work together exploring options and reality testing until a mutually acceptable set of proposals have been made. Outcome documents can then be produced that will enable you to take to your solicitors who will, quickly and easily, be able to turn these into a legally binding agreement. In addition, some clients also choose to work on a parenting plan as a means of summarising decisions about issues to do with their children. This can be a very helpful way of setting the scene for the future co-parenting relationship, both present and future focused.
Mediation doesn't result in a win-lose situation but rather one that both participants feel that they can live with, one that works for everyone in the family.
If you are ready to take the first step, then please complete the Mediation Information Form (found in Downloads) and return it to me.